Iran's Oil Minister: We Will Not Comply With Illegal U.S. Sanctions
11 de Enero, 2019

/

12:00 pm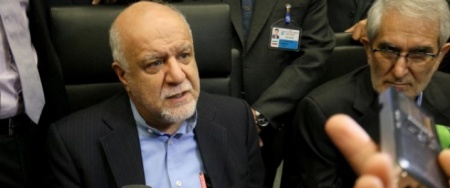 Iran will not be complying with the "fully illegal" U.S. sanctions, Iranian Oil Minister Bijan Zanganeh said on Thursday, in yet another defiant statement from Tehran after the American sanctions on Iran's oil and shipping industry snapped back in early November.
"We believe that we should not comply with the illegal sanctions against Iran," Reuters quoted Zanganeh as saying at a joint press conference with Iraq's Oil Minister Thamer Ghadhban during a visit to Baghdad.
While it stays under U.S. sanctions, Iran will not be discussing the volume or the destination of its oil exports, the Iranian oil minister noted.
During his visit to Iraq, Zanganeh discussed with his counterpart cooperation in different areas, "especially on oil issues," the Iranian minister said.
Iraq and Iran have not reached yet any agreement on potential development of the oil fields the two countries share, Iraq's minister Ghadhban said.
Since the U.S. sanctions on Iran's oil entered into force on November 5, Iran has continuously claimed that the United States will not be able to choke off all its oil exports.
A month after the sanctions were reinstated, Iran's First Vice-President Eshaq Jahangiri said that the Iranian government could manage the country even without relying on oil export revenues.
Iran's President Hassan Rouhani, meanwhile, reiterated in early December that the U.S. cannot stop Iran from exporting its oil.
"The United States said it would stop Iran's oil export and business relations, making Iran isolated, but it could not do it and it won't be able to sever our relations with the peoples of the region," Rouhani said in an address.
"We will sell our oil and they can't stop us from doing this, said Rouhani adding, "If the US wants to stop our oil sales, no oil will be exported from the Persian Gulf," according to Rouhani's speech as carried by the official website of the Iranian President.
By Tsvetana Paraskova for Oilprice.com
Fuente: https://oilprice.com/Latest-Energy-News/World-News/Irans-Oil-Minister-We-Will-Not-Comply-With-Illegal-US-Sanctions.html
Etiquetas
Publicado por José Daniel Tordecilla Blanco
Periodista OIL Channel: Estudiante de Ingeniera de Petróleos de la Facultad de Minas de la Universidad Nacional de Colombia, sede Medellín. Vice Presidente de European Association of Geoscientists and Engineers y ACIPET, UNALMED student chapters.
Noticias relacionadas